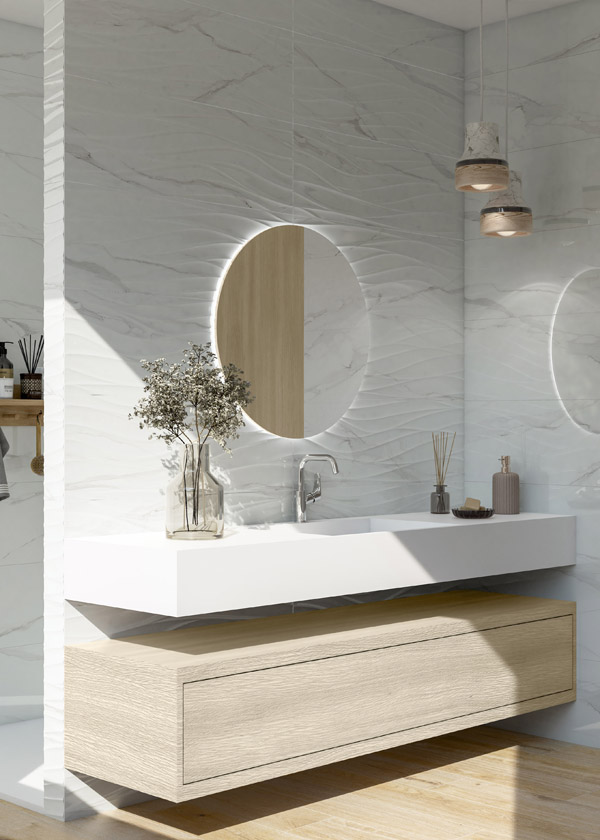 Bathroom tiles
Thanks to the technical characteristics of ceramic tiles, there is no better solution when it comes to home design. Ceramic tiles are resistant, easy to clean and long-lasting. What more could you ask?
Bathroom tiles. What to bear in mind when choosing them
Certain factors must be taken into account when deciding which tiles to choose for bathroom design projects. Special attention must be paid to the quality of the tiles, the tile-laying process and the design of your bathroom in order to achieve a perfect blend of functionality and design appeal.
One point that is influential in your choice of bathroom tiles is the available light; that is, whether there is natural light or whether you will have to rely on artificial light. This will condition the colour of the bathroom tiles, because pale colours and a glossy finish will reflect the light, ensuring added luminosity if there is no window or skylight.
It is also important to decide on a design style; for instance, whether you want a more Nordic, modern or rustic look. This is a key priority in your choice of tiles. If you want your bathroom to have rustic or vintage appeal, you should opt for encaustic-effect tiles. If, on the other hand, you prefer a more Nordic appearance, you should go for white or neutral colours, combined with wood.
What kinds of different bathroom tiles are there?
For classic bathrooms, marble-effect tiles should be used. Our catalogues include a variety of marble-effect tiles in different finishes (glossy or matt), colours and patterns, depending on the type of marble that they emulate (calacatta, macchia vecchia, paonazzo, carrara etc.).
If you prefer a bathroom with more rustic or natural influences, stone-effect tiles are the best option. This is the perfect way of encapsulating all the very essence of stone, using different neutral shades to create a one-of-a-kind bathroom.
Cement-effect tiles are another possibility if you want to create a minimalist or industrial-style bathroom. Large or small microcement-effect tiles in shades of grey or sand will transmit all the natural appeal of a cement surface.
Bathroom tiles: ideal formats
Small-format tiles are all the rage in interior design. A wide variety of designs and formats can be found in our Origin catalogue, perfect for creating bathrooms with a metro look or for more modern bathrooms where small tiles can be used in multiple different ways.