QUALITY AND ENVIRONMENT POLICY
PAMESA's Management approaches the Integrated Quality and Environmental Management System as a way of organising its business life, finding its foundations and commitments in the fulfilment of the following points:
Click here to download the document.
ENVIRONMENTAL CERTIFICATES
Environmental Product Declaration EPD (ISO 14025) certified by AENOR
Our products have been evaluated by carrying out a life cycle analysis, from the extraction of raw materials, through production, to the recovery of construction and demolition waste. This analysis has been carried out in accordance with the international standards of the ISO 14040 series and has been published in the environmental product declaration EPD (ISO 14025) certified by AENOR.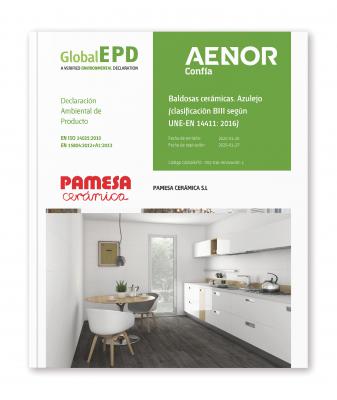 GLOBALEPD 002-016 PAMESA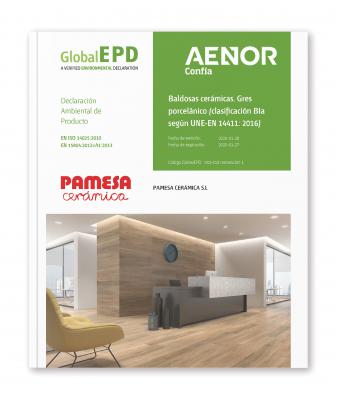 GLOBALEPD 002-013 PAMESA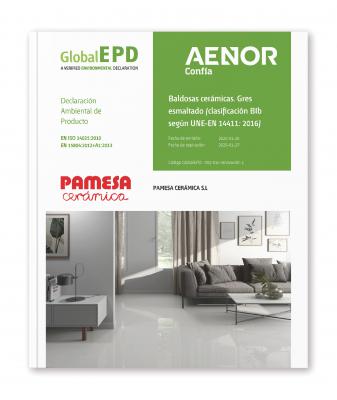 GLOBALEPD 002-014 PAMESA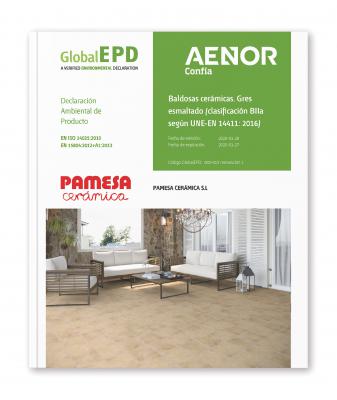 GLOBALEPD 002-015 PAMESA
---



Self-declarations of recycled content in accordance with ISO 14021:2016
Self-declarations of the minimum % content of pre-consumer recycled material content have been made in accordance with ISO 14021-Self-declared environmental claims (Type II environmental labelling).
Contribution to LEED® certification
"(Leadership in Energy and Environmental Design) is a green certification programme developed by the U.S. Green Building Council that recognises sustainable, healthy and highly efficient building strategies and practices. PAMESA CERAMICA products are manufactured with recycled content, VOC-free, waterproof and with product-associated EPDs that contribute to the satisfaction of LEED® v4 certification credits. For more information: https://www.usgbc.org/leed
FloorScore ® Certification
FloorScore® is the most recognised indoor air quality (IAQ) certification standard for hard surface flooring materials, adhesives and underlayments. Developed by SCS with the Resilient Floor Covering Institute (RFCI), a trade association for the flooring manufacturers and suppliers industry, it qualifies for many green building schemes.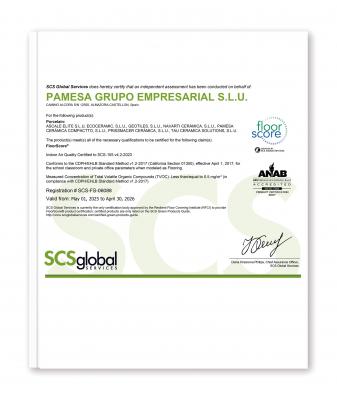 FLOORSCORE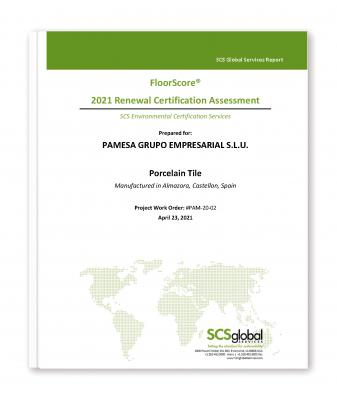 FLOORSCORE
---



CE marking
PAMESA CERAMICA fulfils all the obligations derived from the CE marking for its products defined by the European Community in accordance with the EN ISO 14411 standard.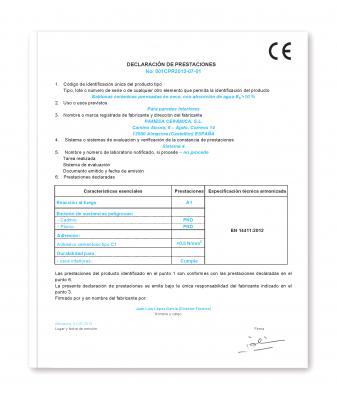 DDP-DOP-Nº001CPR2013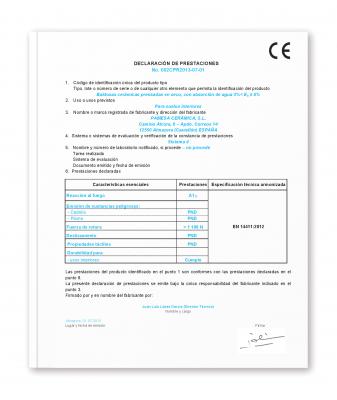 DDP-DOP-Nº002CPR2013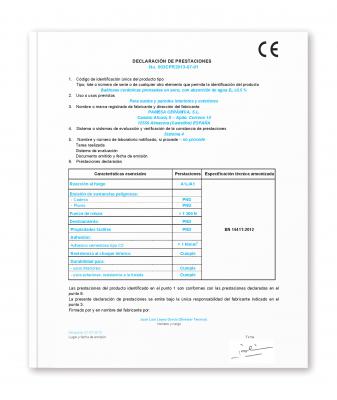 DDP-DOP-Nº003CPR2013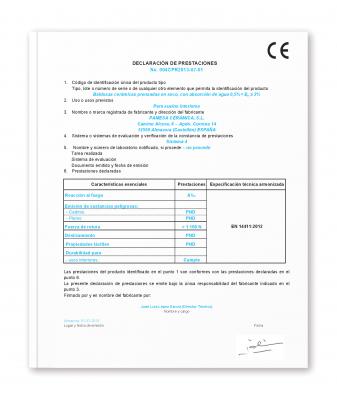 DDP-DOP-Nº004CPR2013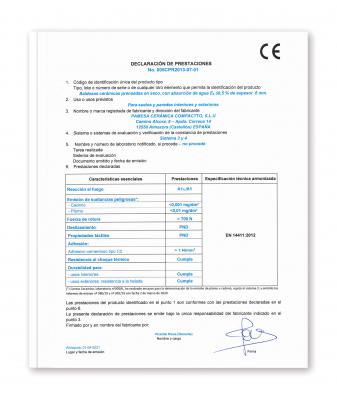 DDP-DOP-Nº005CPR2013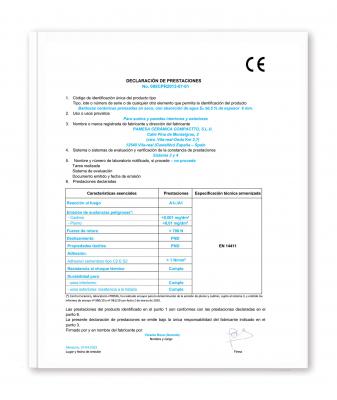 DDP-DOP-Nº008CPR2013
UKCA marking
The UKCA (United Kingdom Conformity Assessed Mark) is the new UK product marking that will be required for certain products that are marketed in Great Britain (England, Wales and Scotland).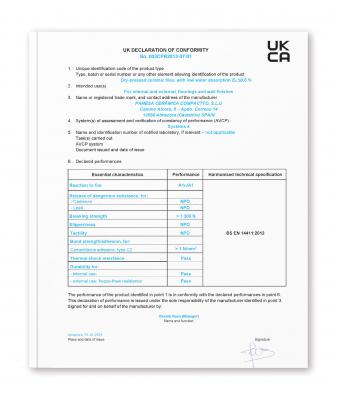 UKCA_DDP_DOP_NO_003CPR2013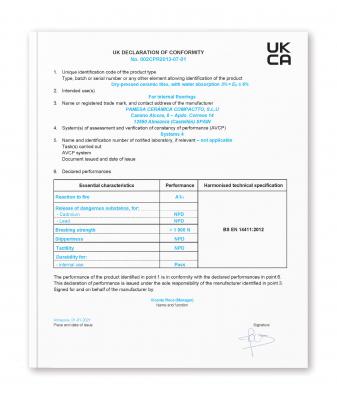 UKCA_DDP_DOP_NO_002CPR2013
UKCA_DDP_DOP_Nº008CPR2013_SLAB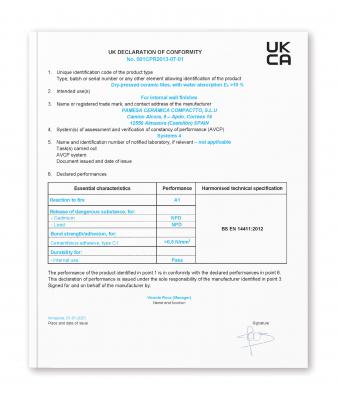 UKCA_DDP_DOP_NO_001CPR2013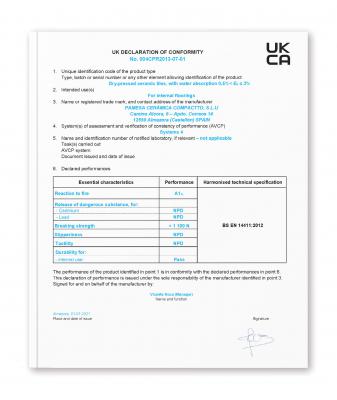 UKCA_DDP_DOP_NO_004CPR2013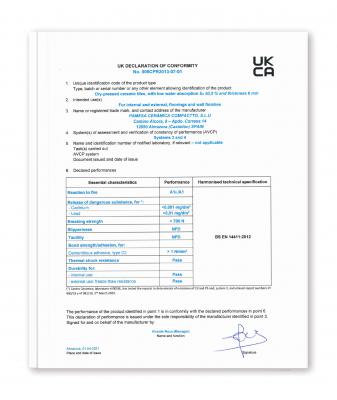 UKCA_DDP_DOP_NO_005CPR2013
CCC Certificate
Certificate The China Compulsory Certificate (CCC) applies to products to be exported or produced in China. CCC concerns both safety and health, with special attention to ceramic tiles. The certificate is obtained through institutes expressly accredited by the Chinese authorities, all of which are based in China.
---


Conformity to NF-UPEC standards
French certification for products defining the conformity of the final product with NF-UPEC standards QB-32 and cahier 3778 regarding the technical characteristics according to the usability and purpose of the product.
Compliance with SASO standards
Certification defining the conformity and technical characteristics of our products in the SASO ISO 13006:2018 for export to Saudi Arabia.
---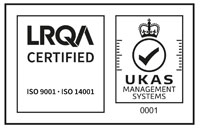 ISO 9001 + ISO 14001
Pamesa Cerámica can confidently state that we are taking on a series of robust commitments in sustainability and conducting responsible management in all processes related to the design and marketing of our products. This commitment has been acknowledged by the prestigious certifying entity Lloyd's, which has granted us recognition as an organization that rigorously complies with the requirements set forth in ISO 9001 + ISO 14001 standards.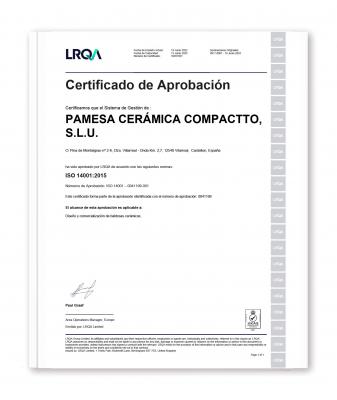 0041199-001-PAMESA-EMS-SPAES-UKAS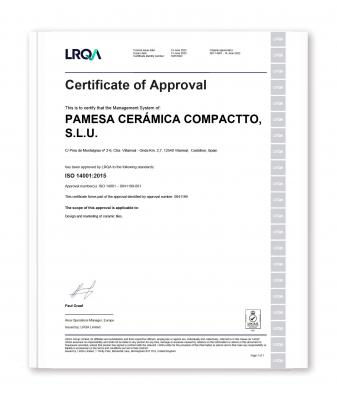 0041199-001-PAMESA-EMS-ENGUS-UKAS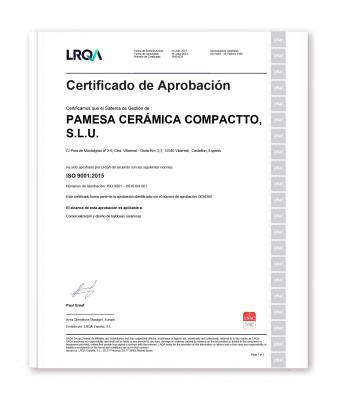 0036384-001-PAMESA-QMS-SPAES-ENAC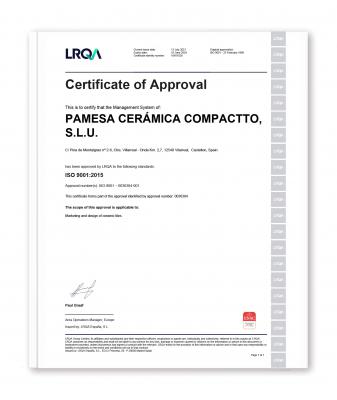 0036384-001-PAMESA-QMS-ENGUS-ENAC