Tiles for living and dining rooms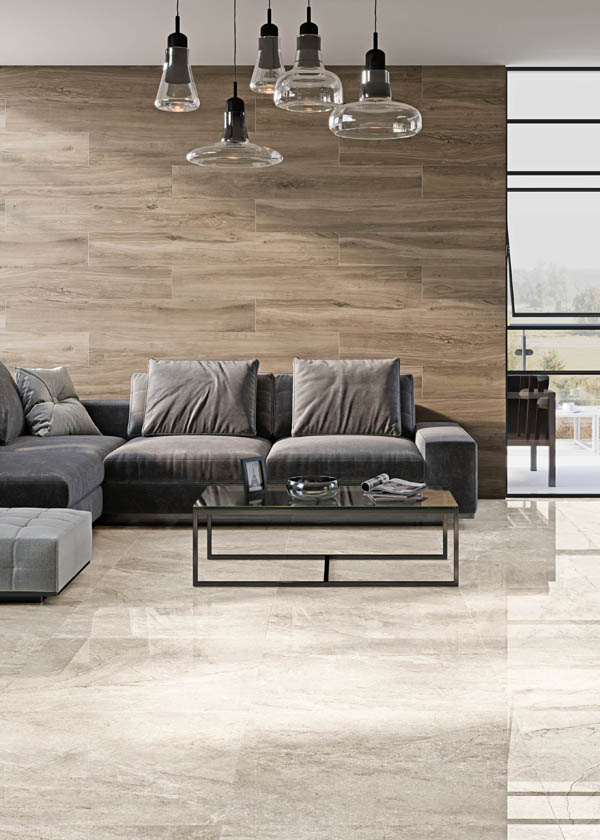 Tiles for living and dining rooms
In actual fact, no tiles, apart from 20 mm thick models, are limited for use in any specific space. We can of course lay any type of format and model in our homes and projects, but it´s also true that certain models look better than others in large, open spaces such as living rooms.
Tiles for living rooms: factors for consideration
The model you choose will make a difference to the appearance of your living room, turning it into a focal point of your home. That´s why it is extremely important to consider a number of factors that will help you achieve the "wow" effect we look for in our homes.
Tiles for living rooms in keeping with the style of your home
Basic rule No.1: your chosen design should match the style of décor in your home. If you´ve opted for a vintage look, then encaustic cement tiles are your best choice. On the other hand, those seeking a more classical air should definitely go for imitation marble tiles.
Imitation wood porcelain floor tiles are another very popular option for living and dining rooms. They offer all the warmth and timeless elegance of parquet flooring, but with the durability and easy cleaning that are the hallmarks of ceramic tiles. They are also a great idea for open plan kitchens and dining rooms, as we can use a single tile model throughout without having to choose an option that is more resistant to stains and moisture in the kitchen area.
The choice of living room flooring should depend on the amount of natural light
Another key factor is the amount of natural light that enters our living room. As a general rule, these rooms feature large windows, so the light is not an issue, but it is a factor for consideration if we go for dark flooring such as imitation slate tiles, as they will darken the setting considerably.
Dining room flooring: which are the recommended formats and sizes?
A final factor for consideration is the format. Sitting rooms tend to be the largest room in the home, so if we´d like to use different types of floor tiles in our home, this is the perfect opportunity to choose a larger format tile, such as 120x120 or 90x90. Selecting these formats means that there will be fewer joints, which will create a sense of spaciousness.