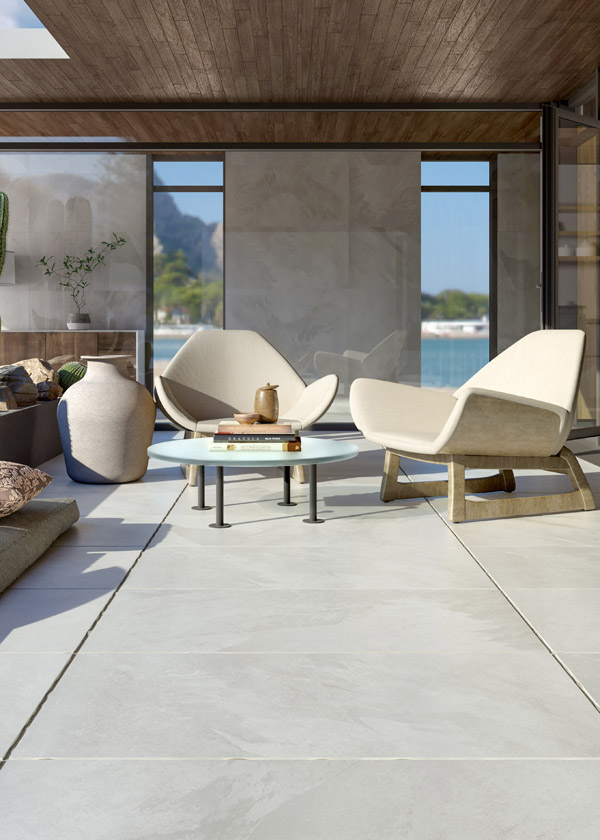 Outdoor tiles
Nowadays, ceramic tiles can emulate natural materials of all kinds. Thanks to new technological developments, they can also be used outdoors and on façades.
Outdoor tiles: What options are there
Terraces are one the most popular areas in today´s homes. They are places for chilling out, sunbathing, lounging by the pool and spending time with family and friends. Classic small terracotta tiles have gradually become less popular, and now there is a growing preference for large-format ones that emulate stone, cement, wood and even marble.
So much headway has been made in tile design that different types of tiles are now featured in our catalogues; for instance, for pool coping, gutters, steps, and other ways of integrating terraces into the rest of the home, creating an aura of warmth and vitality.
What are the advantages of outdoor floor tiles?
One of the main characteristics that is needed in outdoor tiles is slip resistance. Our R&D Department has developed a series of glazes able to guarantee a safe non-slip grip when the surface becomes damp or wet, as is the case of poolside areas, preventing slips and falls.
Another important factor is the tiles´ low porosity, since this influences their water absorption rate and hence their resistance to ice and frost, ensuring that their technical properties and visual appearance remain unaltered.
Lastly, it is also possible to choose thicker tiles for outdoor flooring. Our catalogues include a number of 20mm-thick models, able to guarantee added resistance. These 20mm-thick tiles can be laid in different ways: on pedestals, conventionally bonded with mortar, or laid on gravel, grass or earth.
Outdoor wall tiles
Thanks to their technical characteristics (resistance to frost, ice, moisture and solar radiation), outdoor wall tiles can be used on façades. A clip-based anchorage system is used for this purpose so that the tiles remain securely fixed to the façade with long-lasting results.
This prevents the tiles from gradually coming loose if the adhesive deteriorates through ongoing exposure to the elements. Hence, a mortar or adhesive bond is combined with a secure mechanical fastening system, based primarily on the use of stainless steel clips fixed to the wall with rawl plugs and steel screws.