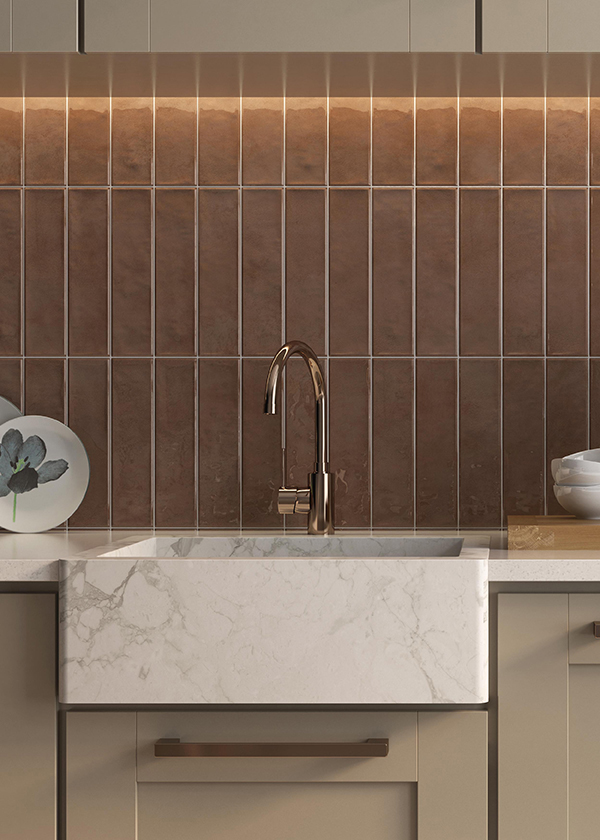 Kitchen tiles
Kitchens play a very important role in homes. They must be functional and yet they can also make a highly original, striking impression. Interior design trends can be a superb source of inspiration in the creation of modern, vintage or classic kitchens.
Kitchen tiles. What to bear in mind when choosing them
The first thing to ensure, from an interior design perspective, is that your new kitchen´s appearance fits in with the rest of the home. That is, as far as possible, it should have the same decorative style.
As with other rooms in the home, take into account how much natural light there is, because this will influence the colour of the tiles you choose and whether you opt for relief textures.
Kitchen wall and floor tiles face the toughest conditions in homes, since they are splashed with water, oil, cooking fat and more. Kitchen tiles are also in contact with water, they have to withstand temperature changes and, most importantly, they need to be easy to clean.
One advantage to tiles is that no special care is required to keep them clean. Any detergent can be used to keep them looking as good as new.
Recommended looks for kitchen tiles
Our catalogues feature a wide variety of kitchen tiles, from encaustic-effect tiles to stone-effect ones. These are two of the most popular looks in interior design. Alternatively, marble-effect tiles can be used or, in the case of big kitchens, large-format ones from our XXL catalogue in almost any design.
If you prefer a simpler Nordic-style kitchen, white tiles should be used. These come in a choice of finishes (glossy, matt, satin etc.) and different relief patterns (waves, squares, strips etc.), with textures that bring movement and dynamism to walls.