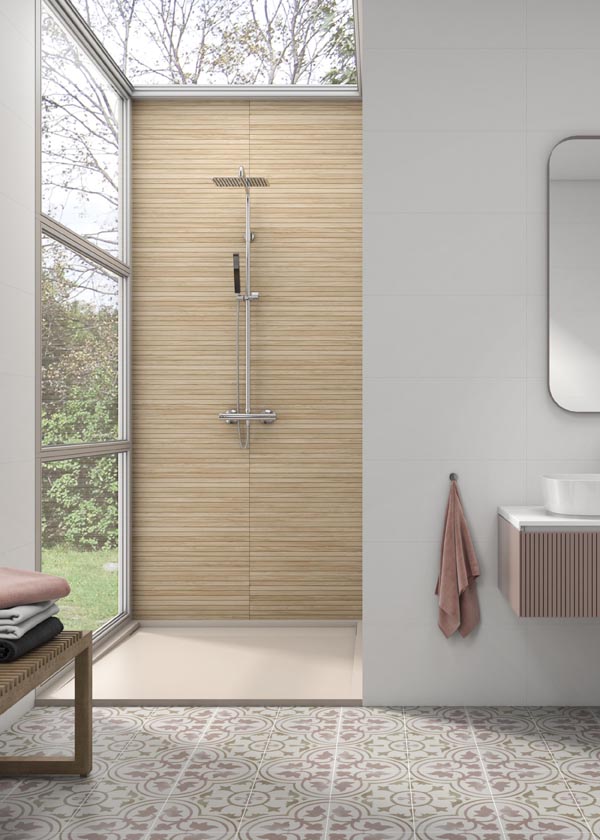 White tiles
White tiles are a perfect backcloth for creative combinations with other materials. They are a basic in home design, and it is very common to find them in kitchens and bathrooms. White tiles are a simple, elegant way of bringing luminosity and an added spacious feel to living spaces, particularly in the case of small rooms. Whether you opt for a glossy or a matt finish, white tiles are always visually restful when compared with patterns or other colours.
White tiles in kitchens
White materials on kitchen walls might be thought to be taboo, given how dirty they can get, but we already know how easy tiles are to clean and care for, and so this is no obstacle.
White tiles are also a good choice in kitchens, because that way your kitchen units can be given a touch of colour, as in design magazines. Kitchens are constantly in use, and so it is important to choose the materials for them with care. As time passes, you will be grateful to have a neutral space, where the tiles and other features all fit in with this design concept and there is no danger of getting fed up of certain patterns or loud colours.
White tiles in bathrooms
Another part of the home where hygiene is important is the bathroom. Tiled bathrooms avoid problems of damp and, if you use white tiles, you can combine them with another covering material or with a decorative design, relief texture or colour. One of the latest trends in bathroom wall design is to use white tiles or pale colours throughout, marking out one area with porcelain relief tiles (for instance, the shower wall or area around the mirror). This adds personality to the bathroom without using colours or patterns that you might gradually get bored of.
As we pointed out earlier, bathrooms tend to be small and to have little natural light, and so these tiles are a brilliant way of ensuring added luminosity and a more spacious feel.
What kinds of white tiles does Pamesa have?
White tiles are a basic for Pamesa, and so white models in a multitude of formats and finishes can be found in its Universe and Atrium ranges.
The smallest white tiles are in the Origin range (in the 6.5x20 Mayfair series), while the largest come in a 40x120 format. White tiles can be found in a 19.8x22.8 hexagonal format, a 22.3x22.3 square one, and 20x60, 25x75, 30x60, 45x90, 33.3x100 and 60x120 rectangular models.
They come in more than just a glossy or a matt finish: some series feature relief tiles or tiles with effects, a good way of adding a distinctive touch to your shower area or kitchen splashback.