Wood-effect porcelain floor tiles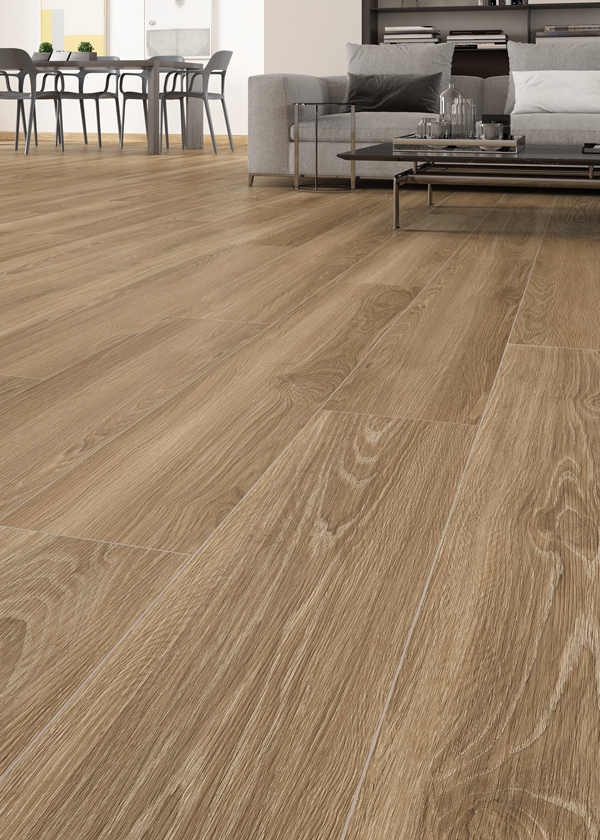 Wood-effect porcelain floor tiles
Thanks to the technical characteristics of ceramic tiles, there is no better solution when it comes to home design. Ceramic tiles are resistant, easy to clean and long-lasting. What more could you ask?
Which wood-effect porcelain tiles to choose
Nordic, classic, Oriental and rustic styles are the biggest sources of inspiration for today´s interior designers. All these looks share one common feature: wood floors. In each case, the design and wood grain pattern will differ-rustic-look living spaces will have wood floors with more personality and a stronger contrast, while a softer design is more suitable for settings with Oriental influences.
The benefits of wood-effect floors
Pamesa offers a wide variety of wood-effect porcelain tile designs. They combine the warm appearance of wood with resistance, durability, low maintenance, and an easy-to-clean surface.One of the biggest advantages of wood-effect tiles is that they are water repellent, thanks to their low porosity. This makes them ideal for wet areas, like bathrooms or kitchens, and for swimming pools too providing that a suitable model treated with C-Grip is chosen.
Can wood-effect porcelain tiles be used outside?
As we´ve already mentioned, providing that a suitable model is used, wood-effect porcelain tiles are also perfect for outdoor areas. Indeed, another advantage to using wood-effect tiles outdoors is the fact that their colour and finish remain unaltered since neither solar radiation nor the passage of time affect them.Wood-effect porcelain wall and floor tiles are resistant enough to withstand pedestrian traffic and, thanks to their resistance to fire, they are one of the safest building materials to date.
Wood-effect tiles for outdoor areas
Our Universe catalogue features several different models of wood-effect porcelain floor tiles suitable for terraces and outdoor areas. Some of the latest designs include our Rovere, Oldmanor and Sonoma models.