Imitation Natural Stone Tiles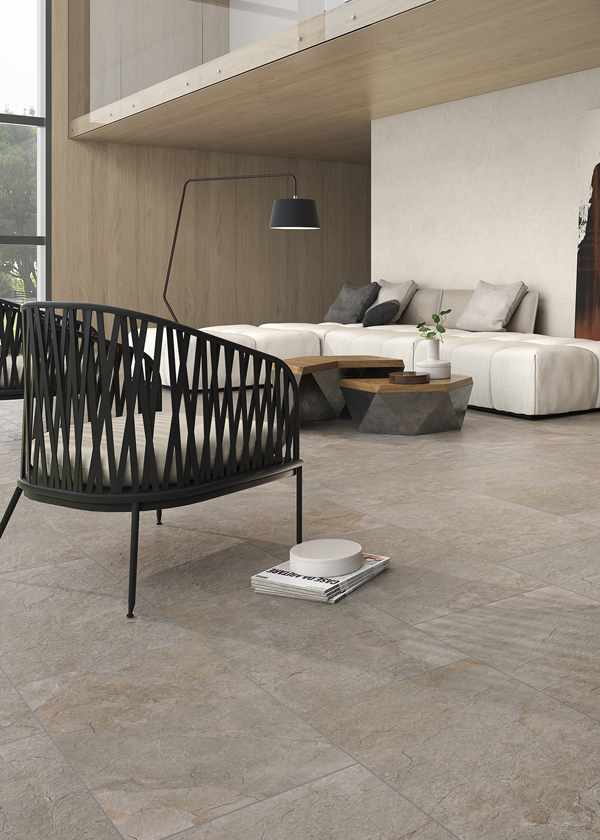 Imitation Natural Stone Tiles
The earliest architectural constructions were made of stone, due to its robustness, hardiness and strength. Today, this material features inside our homes and thanks to advances in ceramic tiles, architects and interior designers are increasingly choosing stone effects for their projects.
Indeed, we can now recreate the essence of natural stone with imitation stone porcelain tiles. Ceramic tiles offer all the aesthetic qualities of stone, but with the technical advantages of ceramic products.
What types of imitation stone tiles can we find?
Just like imitation marble tiles or imitation wood floor tiles, stone-effects also come in a wide range of designs and colours. Quartzite, Bluestone, Burlington, etc., all stand out for the differences in texture, appearance and, in some cases, even their veining.
There are also very special stone-effects that feature tiny incrusted fossils, or others that imitate the texture of natural slate. Selecting one or another will depend on what best suits your decorative style.
As for the formats, the number of possibilities and places for laying stone imitation tiles is endless, and this is reflected in the wide range of sizes featured in Pamesa´s catalogues, from 22.3x22.3 to 120x260.
Can I lay these tiles anywhere, even outdoors?
Stone effects suit all sorts of decorative styles, from minimalist to ultra-contemporary. They can be used to tile our shower, our kitchen walls or even the living room floor.
As for exterior flooring, imitation stone tiles can be used in the area around swimming pools and on terraces with the application of anti-slip glazes. Stone-effect series in 20 mm are ideal for laying in high traffic areas or garages.