Imitation Marble Porcelain Tiles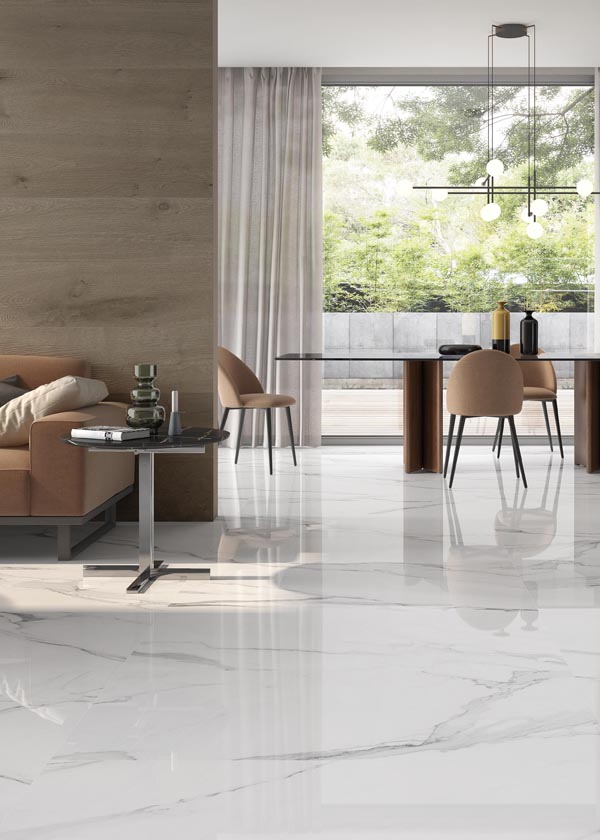 Imitation Marble Porcelain Tiles
Marble is versatile, classic and timeless - a material whose elegance and exclusivity have earned it a place in the history of interior design. This natural material is sourced from large marble quarries in countries around the world, making each slab unique and different.
You´ll find imitation marble tiles in Pamesa´s catalogues. Models that transmit all the luxury of marble, but with the resistance and durability that only ceramic tiles can offer.
What types of imitation marble tiles can we find?
Depending on the type of marble we select as our source of inspiration, we will find classics such as Travertine or bolder options such as Blue Roma. Apart from the colour, the main difference between the various types of marbles is their veining.
The best-known varieties on the international scene are normally Statuario, Calacatta and Travertine.
Our catalogues feature various series of imitation marble porcelain tiles that pay tribute to the classic marbles referred to above. However, there are also other models that are reminiscent of marbles from more exotic quarries such as those of Brazil. This section includes imitation marble tiles that move beyond classic white to shades such as chocolate brown, green, aquamarine and even midnight black.
Which marble-effect tile should I choose?
Your choice will depend on the style you most identify with. If you´re considering a more classical or neutral style for your home or project, then maybe the best option is a white background with grey veining, imitating Statuario or Calacatta marble.
However, if yours is a more contemporary space, or if you are looking to create a sense of exclusivity and elegance, then you should choose a more unusual marble effect, such as those that imitate Skyline, Sahara Noir or Negro Marquina.