Cement-effect porcelain tiles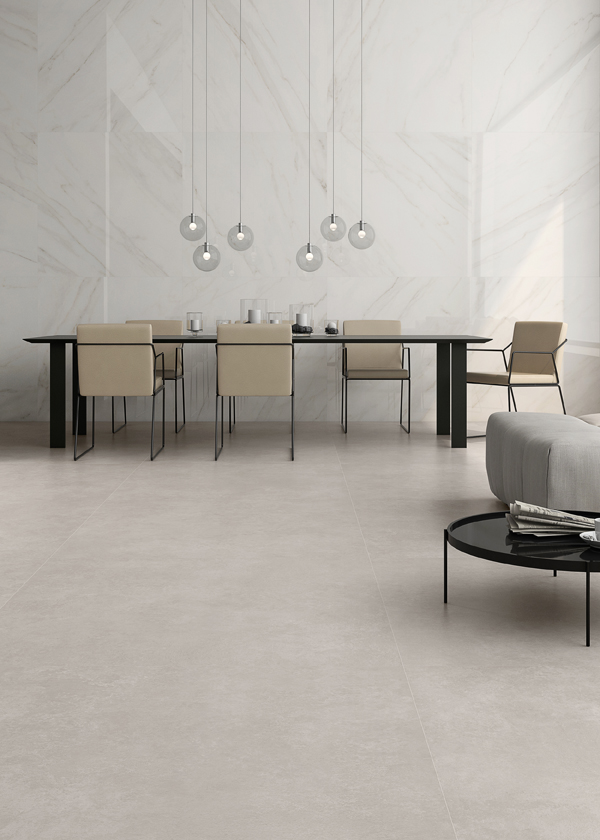 Cement-effect porcelain tiles
Cement-effect tiles have become an absolute must for architects and interior designers. Their natural, industrial appearance have made them a trend-setting choice in interior design.
In this section, we present a selection of cement-effect tiles, suitable for bathrooms, kitchens, other areas of the home and for any other design project.
Polished cement-effect floor tiles: characteristics
This design is ideal for homes, particularly living spaces in industrial or minimalist style. Its pale colour spectrum lends homes greater continuity and a more spacious feel, while also ensuring greater luminosity.
Imitation-cement tiles recreate all the natural beauty of cement or micro-cement, and so they are also perfect for living spaces where a timeless, simple, clean appearance is required. Thanks to the versatility of these tiles and the wide choice of available formats, they are equally suitable for large-scale projects or for the walls and floors of living rooms, kitchens and bathrooms.
The benefits of cement-effect tiles
Cement-effect porcelain tiles conjure up images of grey slabs in coarse or more refined finishes. In reality, ceramic tiles can emulate all kinds of materials. Most ranges feature some simpler, neutral designs with a micro-cement appearance, like the Koncept series, or more dynamic ones, such as the Essen series. These tiles come in a variety of shapes, sizes and colours so that they can easily be mixed and matched with other materials to create settings with a neutral or modern air.
Can polished cement-effect tiles be used outdoors?
Yes, they can. Thanks to new headway in ceramic tiles, designs can be created in differing thicknesses with different glazes. Because these finishes also include non-slip ones, cement-effect tiles can also be used in wet areas and on poolside terraces.